Always take the scenic route, you'll never know what adventures you will find!
As soon as 2017 started I went ahead and planned an adventure trip with my friends.  On top of my list was to see was the Masungi Georeserve at Kilometer47 Marcos Highway, Baras, Tanay Rizal.  I've seen so many Pinterest photos that I was itching to see and experience the place.  One of the things I'm dying to see up close was that giant spider web and hammock.
I did not expect that getting those Instagrammable photos would put me into death defying heights.  But it's all worth it and hey I survived!  If I can, you can too!
Here's some tips to get try out one of the best adventure hike I've had in my life so far!
How to get to Masungi Georeserve?
You need to request a scheduled visit and wait for it to be approved by the Masungi Georeserve Park administrators. It took me about a couple of days to get the approval.  It's like applying for a passport or embassy interview where you have to find an open slot for visit. I suggest you plan your trip at least one month ahead as slots get taken really fast.  After getting a visit slot, wait for their email that your visit is approved and then you have to pay the fees for visitors.
A visit on a weekday is Php1,500.00, while a weekend trip is Php1,700.00 per person minimum of 7 people if less than 7 you will still have to pay for a 7pax fee.  It is hard to find a weekend slot so take your chance on a weekday.  The fee includes a Park Ranger to guide you during the entire trip.  Fare also includes light snacks and drinks that you can have before or after.  You may pay through BPI or via Paypal, it's in the approval email you will get.
At the very last minute, my friends backed out. I didn't want to let go of my slot so I looked for blogger friends to join me in this adventure.  Thankfully, the bunch below accepted my invitation at the very last minute.  With me (from left to right) is Gus, Rhea, Ana, Yuki, Rodel, Charlie, and Ruth.
How to reach Masungi?
It is highly recommended that you have your own vehicle when you visit.  Commuting is a bad option.  We did not see any public transport or even tricycles going up the mountains on our way there.  You won't get lost going there just follow the entire stretch of Marcos Highway until you reach kilometer 47.  You might mistake going into the signage where it says Garden Cottages, it's not the entrance, move forward 2 kilometers more until you see the giant powerline and an entry way with a net and the small market saying 47 kilometers.
When you get to the entrance a park staff will ask for your name and a copy of the receipt of your payments.  Warm up your legs with a 5-minute walk to the Garden Cottages where the briefing will be held.
What to expect?
The Garden Cottages is adorned with a beautiful landscape of flowers, trees, plants, and rock formations. Sa entrance palang sulit ka na! Especially if you like taking OOTDs or nature shots or filler photos for your Instagram feed! The cottages are made of bamboo and natural wood. There are banga (water jars) scattered around so guests can get their water refill.  I suggest you bring a water jug or bottle and fill it up so as not to get dehydrated during the hike!
The trail steps are beautiful and are individually designed . Unlike other hiking places or trek areas you have experienced the trails of Masungi Georeserve are solid.  
Magaling ang architect and landscape artist / designer nila!
The place is very zen!
Reminders when inside Masungi:
No loud noises so as not to disturb the wildlife, there are animals living in the area
No littering.  Whatever you bring take it with you. Do not leave a trace.
Take nothing but photographs.  Picking flowers, leaves, rocks, branches or anything from Masungi Georeserve is prohibited.
Always wear your helmet until told by your park ranger that it is okay to remove it.
Take care of your belongings. Use the climbing carabiner to keep your things safe.  If you are using your cameras or phones while on the trail take extra care.  If it falls off into a sinkhole or tight spaces and crevices, say goodbye to it forever.  Park rangers can't retrieve it anymore if the place it fell off to is a very impossible place to get in.
Tipping your Park Ranger is not allowed.
How to survive the trial?
Before getting there, we were told that we can finish the entire trail in less than 4 hours.  However, in our case, it took us 4 1/2 hours to get to the end!   Our Park Ranger Reynante thought we were all physically fit to go through all the challenging trails and hikes.  He even said "Di bale ng matagal at mabagal, ang mahalaga nag-enjoy naman kayo."  True enough.  It is better to take our time and enjoy the entire reserve, the beauty of nature, and even the rain!  Take good photos, catch our breaths, enjoy the company of our friends, then be fast and not truly savor the moment!   Thank you Kuya Reynante for that inspirational words of encouragement we all actually needed it, especially after exhausting climbs on crazy rope treks!
To survive:
Wear comfortable clothing as the temperature can get hot and cold at any moment.  It can also rain or suddenly turn sunny.  It is best to wear leggings or yoga pants is better.  Thank you PRana for my yoga/ ballet pants!  I move swiftly as a road runner in it.
Wear non-slippery shoes that is actually made for trekking as the trails can get slippery or sharp.  Thank you Free Waters for my Sky Slip-On Knit.  I never slipped or did my feet get sweaty because of the breathable design. Plus its insanely light as a feather, it felt like I'm not wearing shoes at all!
Use an outdoor backpack that is waterproof and light.  Thanks to Herschell Supply for my backpack.  I feel like not carrying anything at all as the padded handles are soft like cushions on my shoulders and back,  My stuff didn't get wet and everything was secured in it.
If you need to pee, do it before the hike as you can't do that anywhere on the trail but at the end and start!  Their restrooms are very clean!
Eat first before taking the hike, it's a long walk you might get hungry!  You have the option to take the snack before or after.  We had our snack after and they gave us Wheat Bread with Tuna salad spread, Banana and Calamansi Juice, and Water. Or bring snacks to munch during a stopover.
What to see at Masungi Georeserve!
They have many indigenous plants that botanist enthusiasts may enjoy!  It was interesting enough to know of some plants in there that are dangerous!  Some of the plants there can stick to your skin and make you itch like hell for days! So do not touch!
While our park ranger said there are many wild animals living in the area, like long-tail monkeys, owls, bats, and many others.  We didn't see them when we were there, most animals are nocturnal, he said. Although we saw some black birds in one of the places we had a stopover. I think we scared it off coz we were too loud!  Although my video footage captured some animal noises.
The view!  The view is fantastic!  Everything in it is just picture worthy!
Sapot
Of course, you couldn't miss Sapot , Sapot being the most photographed place and view in Masungi!   As breathtaking as it looks, it literally is breathtaking.  If you are afraid of heights or even if you are not.  There are no handles or whatever and it is shakey when everyone is on it!  You have to balance yourself or crawl your way to the center of the giant Spider Web!
 Shakey legs! I was the only one seated here. Plus I was scared that I might drop my fone.  Until I got my grip that's only when I stood up.  If you are afraid of heights this takes a lot of guts to get on to!  It was the scariest part I think because you have nothing to hold on to when you are standing.
Duyan
The Duyan or the giant rope hammock.  It was one of my favorite.  It was so comfy to be there and just rest.

Yungib ni Ruben
Yungib ni Ruben or Cave of Ruben.  It was the most gorgeous cave I have seen in my entire life.  The cave was so clean and well maintained.  Cave is very much alive with living rock formations of stalagmites and stalactites.  The cave smells so good it feels like I'm inside a spa!  It's all because of the oil lamps scattered in the area.  Unlike all other caves I got in before there were not stinky rat or bird feces.  It was amazing.  Inside was a water fountain catching some water dripping from the mouth of the cave on top.
Tuktok ni Tatay
Tuktok ni Tatay or the Top of Father Rock .  It was the highest peek in Masungi Georeserve overlooking the entire property.  In there you can see the Bundok ng Suso ng Dalaga and part of the Siera Madre Mountains.
Tuktok ni Nanay
Tuktok ni Nanay or the Top of Mother Rock.  A lightly lower peek in Masungi Georeserve across Tuktok ni Tatay.  The rock on Tuktok ni Nanay is literally hanging on the edge and any moment could fall off so they don't allow people going on top of it just around it.  The bridgeway going there and surrounding it is lovely .
Magalaw Bridge
Magalaw Bridge. A beautiful hanging bridge that we have to cross to go to Yungib ni Ben.  We have to should loud of the direction of our feet so as not to make it shaky!  Left, right, left , right, left right!  Good times!
Bayawak.  Is the last rope trail we went through before we had our snack.  They call it Bayawak because the ropes are designed to look like it. Bayawak is like a large lizard .  We almost want to slide down the ropes to the edge!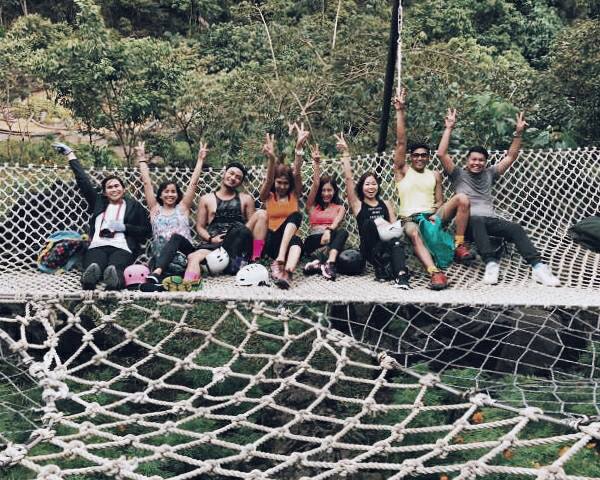 Other Attractions
There are stop overs like the Tagpuan, Silungan, Intayan, Kuwago, Unggoy, Cactus Garden, Dungawin mo Hirang, Lagusan ni Ric, Paroot, Lungga ni Tita, Suutan, Tagusan,  Ditse and Batak.
At the moment they are creating another trek area in Masungi, we caught a glimpse of it while passing by but it is not yet operation. Our park ranger said it might open in after a year.
What I think of Masungi Georeserve and the entire experience?
It was one for the books for me.  I haven't done a nature trip in a long while.  I haven't hiked or trek in I can't even remember.  This was the longest I've hiked in my life.  This trek took us about almost 5 hours on foot!   After the trip my calves and thighs are all sore from it all but it was worth it!
Masungi Georeserve is well cared for and very clean.  Parang may pagka-OC yung may ari ng reserve kasi even small branches and leaves pinapaayos at pinapasalansan nya ng maayos para di daw magulo tignan at di nakakahiya sa mga bisita.   The stacking of branches and leaves is also their way of composting. Cleanliness is very much observed in the Masungi as for every rope trail we went to, you have to brush your shoe soles before you climb or crawl.
If you are up for the physical challeng or just wanting to be at one with nature, smell fresh air and be Zen.  Visit Masungi Georeserve, the fee is worth it.  The beauty of nature that you will see in this place is priceless.  Plus they use the funds to pay for the park rangers and the maintenance of the entire reserve!
I'm looking forward to see all of you get the chance to visit the place!  If you are not afraid of heights take more beautiful photos and make it as postcards!
Stay gorgeous everyone!
Meanwhile, watch the Part 1 of my Masungi Geoeserve Adventure Trail Vlog here:
Trivia:
Masungi Georeserve is a private property and was developed in 1996. They only opned it for public this December 2015. Masungi came from the word Masungki or crooked teeth as the rock formations looked like crooked teeth. The reserve used to be submerged in water 600 years ago and the rock formations you see are similar to what you see in Palawan.