Because of my supportive readers , I and my blog have been feature in a number of newspaper and magazine.  I have also worked in several endorsement projects as brand ambassador/ online influencer.
I am thankful for all of this! Here are some of the features I was able to save, some are scattered somewhere I was not able to get a copy.
Yay Top 1 Fashion and Beauty Blogs
Top 5 of Top 100 Beauty Blogs Worldwide 2013
Philippine Star August 23,2013 for SANUK Yoga Slings
Nuffnang Philippines BLOGGER OF THE MONTH of APRIL 2013
Top 4 on the Top 10 Fashion and Beauty Blogs Philippines
Pop Talk Guesting
FASHION & BEAUTY CAPSULE COLUMN (Hagupit)
 I'm a DOVE GIRL and I love it!
I'm a UNIQLO Top 4 Fashionista
NESTLE CRUNCH ICE CREAM
BLOGGERS UNITE FOR A CAUSE (Manila Bulletin May 23, 2012)
Bloggers United Starship Lip Dub Video
Oh btw Ana made a BTS vid too here:
http://youtu.be/DPhpcLTB49g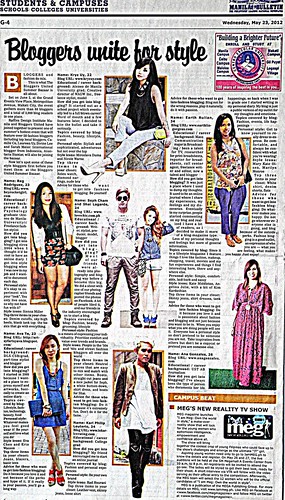 COCA-COLA Happiness Correspondent (Coca-Cola Philippines 100 Years Anniversary)
SMART NETPHONE LAUNCH PARTY
THE NYLITE TRETORNS PROJECT PHILIPPINES
https://www.facebook.com/media/set/?set=a.10150280783605642.330846.36700190641&type=1
LISTERINE TOTAL CARE CELEBRITY CHALLENGE

METRO Magazine February 2011 Issue
The Muse Issue
Start the Year Light Nuetrogena Fine Fairness Feature

MEG Magazine October 2010 Issue
Annual Beauty Awards/New Improved Issue
Netizen Beauty Pro Features
I became a Chef de Partie for a day. featured in Anchor's website
That's the pic on the site, kewl!
For any event invites, product review request, advertising inquiry and placement, violent reactions (I hope none!) , suggestions and other concern please email me at  earthlingorgeous (@) earthlingorgeous.com , earthlingorgeous (@)hotmail.com
Stay gorgeous everyone!
Asenso Pinoy 7th Anniversary Talk