UPDATE: CONTEST IS MODIFIED AND SIMPLIFIED JOIN NOW!
UPDATE: First 3 Valid Entries automatically wins an Avon Windscape For Him and Her, Blogging From Home Book and 2 Movie Passes To Eastwood City Malls and a spot on my blogroll (Friends of Earth).
All early Bird Prizes are already taken! Congratulations to Iris, Mizhelle and Jennie A! An additional 10 points to all who have joined since the contest start until February 17, 2010 12mn since there are mix-ups in codes and errors in the links that are now corrected, please be guided accordingly.
ALL COMMENTS ARE MODERATED and ONLY VALID ENTRY COMMENTS WILL BE APPROVED for all contest related comments the rest non-contest related will be approved immediately. A special mention to Iris Camille Meija-Acosta of Aerin Collections for being the first to complete all steps and fulfilled a valid entry!  I suggest everyone to look at her comment below and her post to see how its done right.
ALL COMMENTS ARE MODERATED and will only be approved until I have checked and verified everything.  Thank you.  Comments not related to contest entries will be approved immediately.
———————-
Before anything else let me greet you a Happy Chinese New Year Valentines! I hope you are all smiling and feeling great today.
After two  months of preparation it's finally here!  Earthlingorgeous.com 2nd Blog Anniversary Thanks Giving Treat is up and I am inviting everyone to join!
Main contest is Earthlingorgeous.com 2nd Blogversary Treat open to anyone anywhere in the world as long as you have a blog, a valid email address so you can subscribe to my blog and confirm your subscription and a valid Paypal address where I can send your cash prize if you win.
The side contests is  Earthlingorgeous Gorgeous Treats is available to Philippine residents only (due to customs, shipping and handling constraints.)
Mechanics about the side contests will be posted later.  Contest prizes details will be posted on another post.  Up for grabs are:  grand prize grabs a $100 cash via Paypal plus gift items, there's a second placer, consolation prizes and prizes for top commentators.
CONTEST MECHANICS
1-8 Are Required Steps
1.    Subscribe to my feed via e-mail or reader. (2 pts)  Please confirm your subscription or your entry will be disqualified. (5pts)
2.    Blog about this contest including all sponsors and their links (just copy the codes provide below) then link to this particular post using this anchor text "Earthlingorgeous.com 2nd Blogversary Treat". (5 pts)
3.    Grab my contest button and place on your sidebar.  Pls. make sure it links back to this post. (5pts)
4.    On your contest entry post, which includes the sponsors links, answer the following question (your post entry should answer these questions or if you feel comfortable to make another post for this you can do so) : (5pts)
How did you learn about Earthlingorgeous.com?
What is your favorite post here and why? (entry should be between January 2009 – December 2009)  Link to said post.
Include a screen capture/ print screen of the page you are reading at Earthlingorgeous.com or a photo of you reading or browsing Eartlingorgeous.com on your computer screen (make sure my logo appears anywhere in the photo)
What topics would you like to read at Earthlingorgeous more often?
5.    Comment back on this post to inform me of your contest entry URL and the email address you used to subscribe. (2pts)
6.    Become a Fan of Earthlingorgeous.com on Facebook.  Follow me on Twitter (click that follow button on the side bar) (5pts.)
7.    Sign the contestants spreadsheet.  So I will know how to contact you in case you win. (Spreadheet here)
8.  Comment back if you completed all steps 1-8.
For Additional Entry Points and chances to win other prizes:
9.  Comment at least once a day at any of my post especially the new ones.  Spammy and pointless comments are not accepted.  A maximum of 5 comments a day is accepted.  (1pt each comment)
10.  Promote this contest on your other Social Networks (Facebook, Friendster, Twitter, Plurk, Yahoo! Meme, Multiply, MySpace and Tumbler) (1pt each)
11.  Join my blogversary side contest mechanics to follow. (10pts)
12.  Be active on Earthlingorgeous.com Facebook Fanpage. (1 pts a day)
13.  Post the photo you used on your contest entry on Earthlingorgeous.com Facebook Fanpage. ( A photo of you reading Earthlingorgeous.com or a screen capture of the page you are reading) (2pts)
14.  If you joined the side contest include the side contest mechanics link your side contest entry in your main contest entry using this anchor text : "Earthlingorgeous.com 2nd Blogversary Treat".  (2pts)
15. Stumble, Digg, or Delicious me (1 pt. each any one will do) (Stumble link)
16. Technorati Fave my blog.
(2 pts)
Winners will be selected through the help of a selected panel of judges from the special sponsors below.  Winners will be selected based on the sincerity, creativity, and relevance of the post.
CONTEST SPONSORS AND SUPPORTERS
Special Thanks To The Following :
Strategic Edge Marketing
I would like to thank all my blogger friends and supporters for providing whatever they could to make this contest bigger and better:
COPY CODES AND PASTE

Main contest is up until March 18, 2010 only.  Side contest will be simultaneously held with different deadlines. Winners will be announced here but will be announced on Earthlingorgeous.com Facebook Fanpage first.
Pls. read and follow instructions carefully and re-check if you did ALL REQUIRED steps to qualify. Thank you and Good Luck!
CONTEST BUTTONS AND BANNERS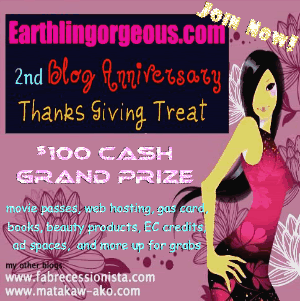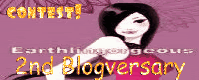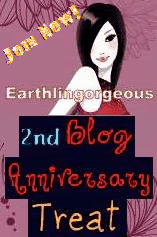 To those who joined please don't forget to sign the contestants spreadsheet!