At first we mistook it as her choking something, she habitually she puts something in her mouth. A habit that is hard to discard because this is one of the many manifestations of her autism. So as common first aid for choking I took her in my arms and give her a thrust so she can spit out whatever was cloging her breathing.
Suddenly, her eyes rolled up to the left.  I was trying to get her attention but she wasn't responding.  Then she just stiffened her head tilted to the right and her eyes rolled to the left.  This is when I started panicking.  I didn't care what I was wearing all I wanted was to take her to the hospital immediately.
This was her first ever worst epileptic attack that I and the family have ever witnessed of my daughter.  Since it was the first I didn't know what to do.  I was very scared I've never been so scared in my entire life.  I felt like I saw my child dying in front of me.  Praise be to God it was not like that but an episode of an epileptic attack (a complex partial seizure) causedt by the low medicine level.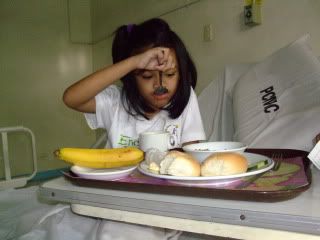 My daughter's neurologist said her Carbamazepine level was low. Blood and toxic text showed she only had 3.1 percent while the accepted  level should have been 4 to 15 percent.  Although she just had her recent check-up with him, the daughter grows fast and gains more body mass and weight and height than ever.  That was the reason her carbamazepine levels went down.  It was no longer proportionate to her weight.
She was diagnosed to have epileptic tendencies more than a year ago and as soon as Dr. Jose A. Robles M.D. her neurologist knew about it he gave a prescription of carbamazepine to prevent any seizures.
I was glad that during the attact despite the confusion I had I was able to remember to call my daughter's developmental pediatrician Dr. Christine Cruz-Conducto M.D. and asked her what to do.   I am so thankful for Dra. Conducto, Dr. Robles and Dr. Melvin Flavier M.D. who were there to attend to my daughter when we were taken to the Emergency Room.   They even sent their associates to check on us from time to time.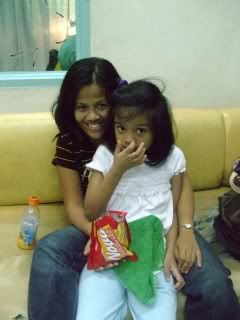 While the Philippine Children's  Hospital (PCH) in Quezon City resident doctors and nurses were failing so much with their attending skills and handling time for patients in the ER,  my daughter's doctors who are all practicing there in private gave her full attention.
I couldn't thank my sister Olay Rullan for being there when this episode happened.  Instead of having a nice vacation and her planned trip to Mt. Makiling she was hostaged by us to help me watch over her at the ER. I feel they were my daugther's angels.