There are two things I love doing: blogging and taking photos.  So, when Nuffnang Philippines announced their first contest for 2010 I did not hesitate. The contest was to take a Real Leaf Paparazzi shot, sounds fun and challenging to me.
Equipped with my point-and-shoot digital camera I had my Real Leaf radar up. I bring my camera wherever I go even before this contest I want it with me when inspiration strikes me. Until one day while waiting for my daughter who was having her therapy session at PCMC a mom and child walked pass me with a Real Leaf tucked on the mom's sling bag. Immediately I grabbed my camera and took a shot.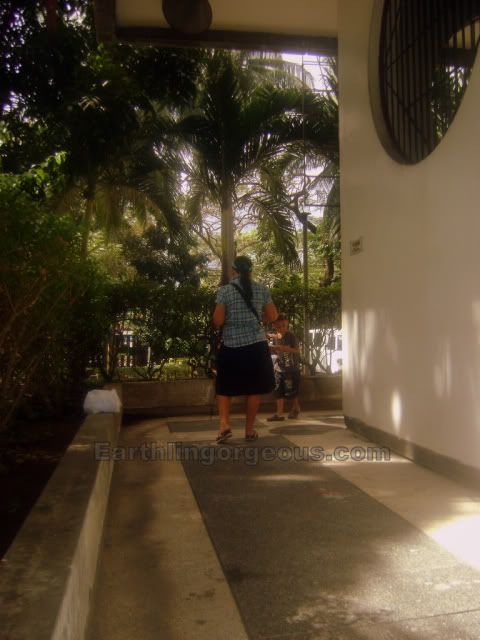 Damn! Missed a shot of the Real Leaf. So I had to try again. I positioned myself opposite of them and a nice view of the real leaf on her messenger bag so I can get a nice shot. I was tying not to be obvious that I was taking a photo of them I pretended I was just browsing my camera.
Click…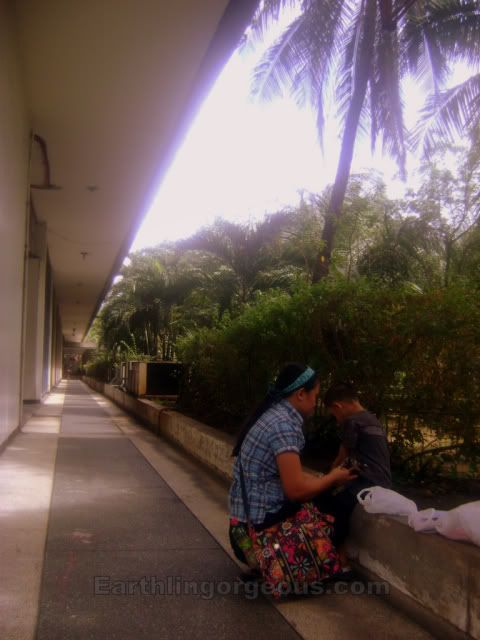 Good but not so good one more shot…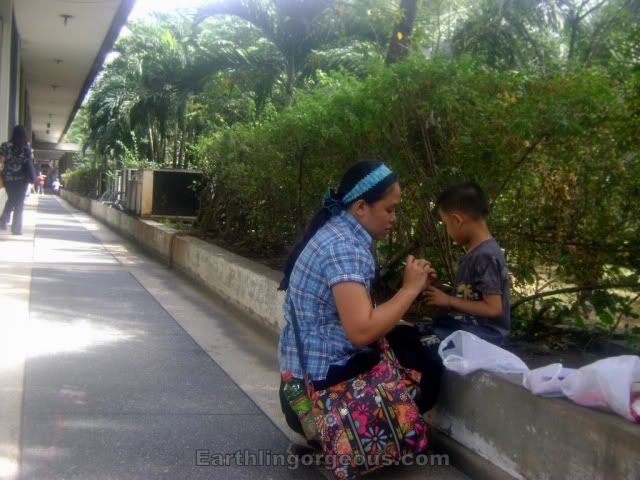 Nice, but I need to have a better view of the Real Leaf so I zoomed as far as my point-and-shoot cam can go. Click…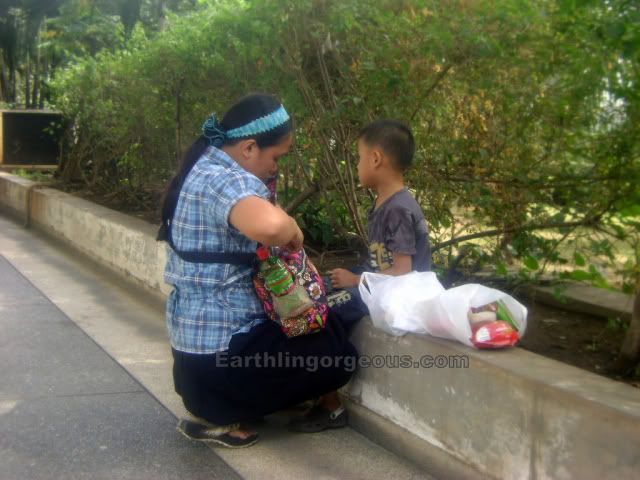 Perfect! A Real Leaf Paparazzi shot!
I didn't ask the mom why she had a Real Leaf in her bag, she might think I'm weird or something. But since the bottle was half-full I assumed she or her son loves drinking it while waiting for their therapy session. The kid is a client of PCMC Rehabilitation Center too undergoing occupational therapy like my daughter. Knowing kids like them they will only sit in a corner if they have something on their mouth. With all the plastic bags loaded with snack beside this mom and son tandem I guess Real Leaf is part of his favorite drink.
Shoot! I don't have a shot of them drinking! Didn't the contest require someone drinking it? Damn, I have to do something!
I went to the supermarket and grabbed two bottles of Real Leaf with its two flavors the Honey Lychee and the Honey Apple (by the way the mom and son tandem had a Honey Apple). A 480ml bottle cost a little over P17.00 and a 1 liter bottle is a little over P23.00, not bad.
I was contemplating of either giving a bottle to a neighbor or grabbing a couple bottles and have the moms at my daughter school drink it and sneak a photo of them drinking it, but my conservative self prevailed, I don't think I have the guts to give them a bottle of Real Leaf and tell them to pretend not to look while I take photos of them drinking the product.
My desperation to join the contest (well who doesn't want a chance to get P20,000 for doing something you love?) led me into taking a shot of me drinking a real leaf. I'm not looking anyway so this could pass as a "paparazzi shot".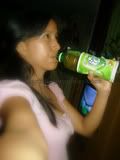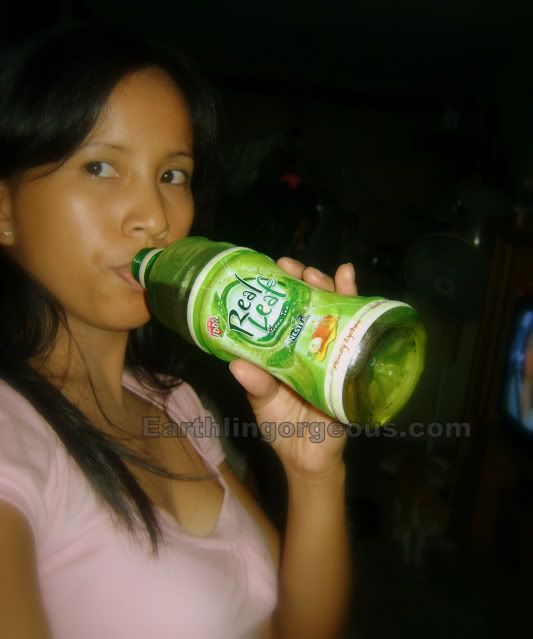 Of course not! This won't work! So obvious!
I had to do something. I'll try it with my daughter.
Me: Hi baby can you please try this real leaf for mommy? Please? It taste good promise.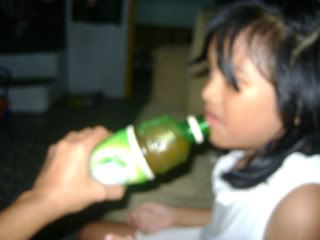 Ugh… this won't work she won't even hold the bottle and I don't want to torture my daughter drinking something she doesn't like. I have to try something else.
Me: Here kitty, kitty, kitty! Here Miming try Real Leaf, I'll give you a Tuna if you will drink it.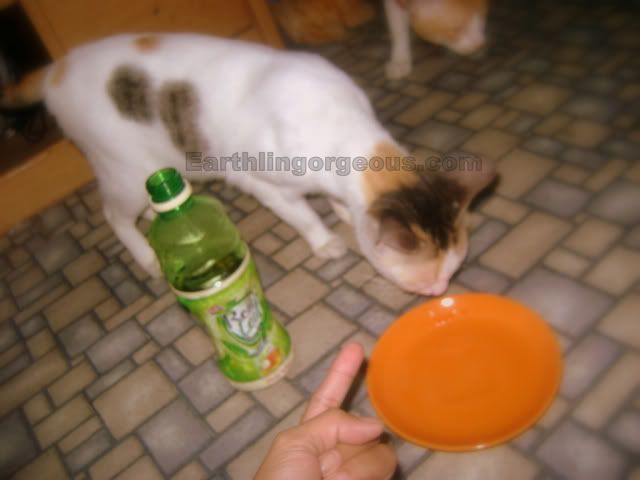 LMAO! As soon as the cats smelled it they ran away from it. I think the green tea leaf from the Real Leaf smelled like cat nip to them. LMAO!
I have to resort to something else, Mom (evil grin).
Me: Mom, can you try this drink for me please.
Mom: What is that?
Me: It's Real Leaf some cold tea beverage drink. Try it its good.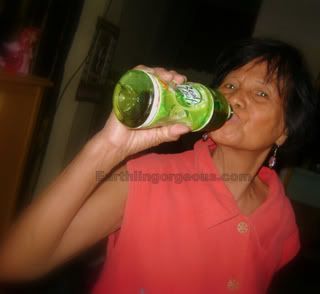 My mom is such a cam ham. As soon as she saw me taking shots of her drinking, she looked. LOL! Well at least she liked it.
As soon as I thought I got a so so "paparazzi shot" of mom drinking the Real Leaf my daughter grabbed the bottle.
Daughter's thought bubble: OK mommy I'm doing this for you.
Daughter's thought bubble: I'm really gonna do it.
Daughter's thought bubble: Here I go!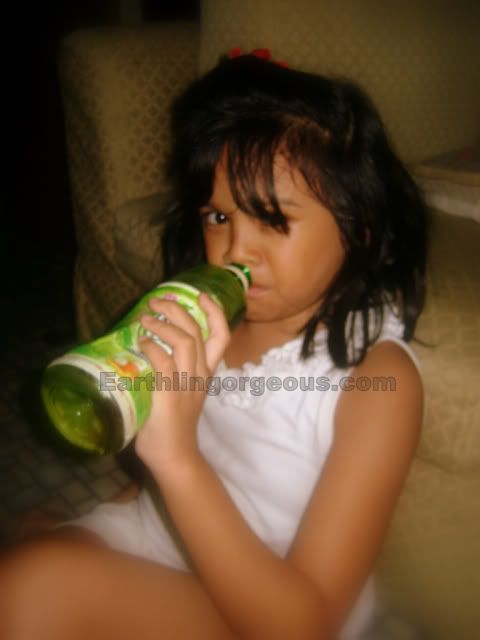 Daughter's thought bubble: Remember mom, I'm doing this for you!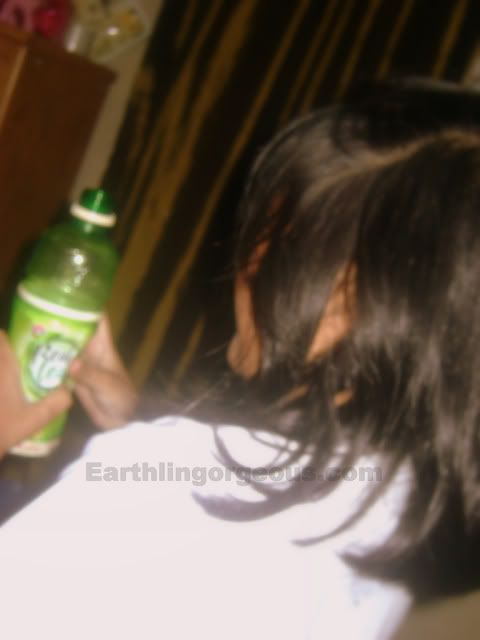 Daughter's thought bubble: Hey! That's not so bad at all!
Before she entirely consume the product I decided to change her shirt to this. Yeah! A My Blogger Mom Rocks shirt.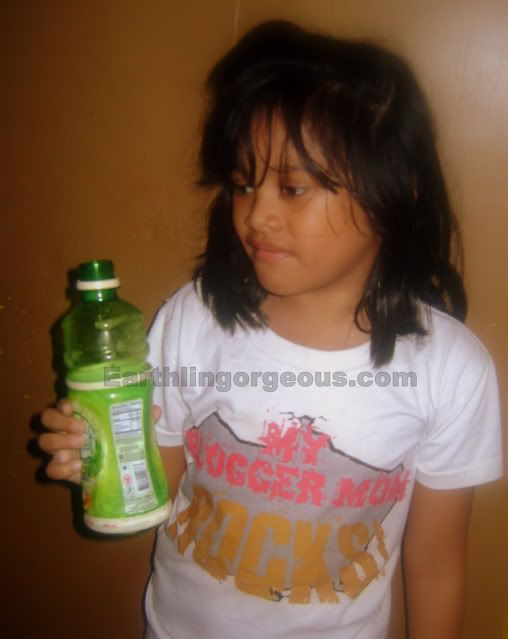 Daughter's thought bubble: Hmmm… I like it! My Blogger Mom really rocks!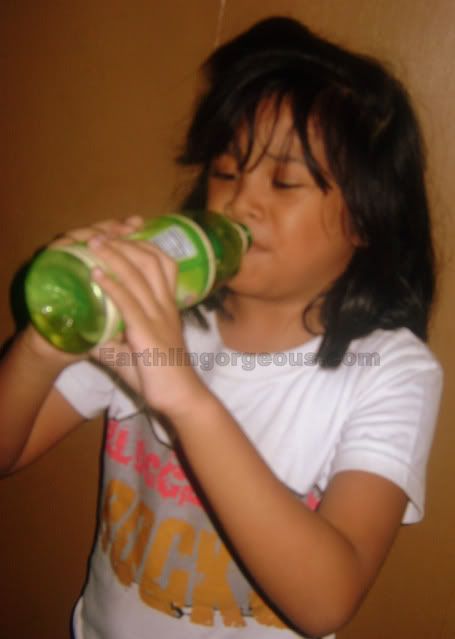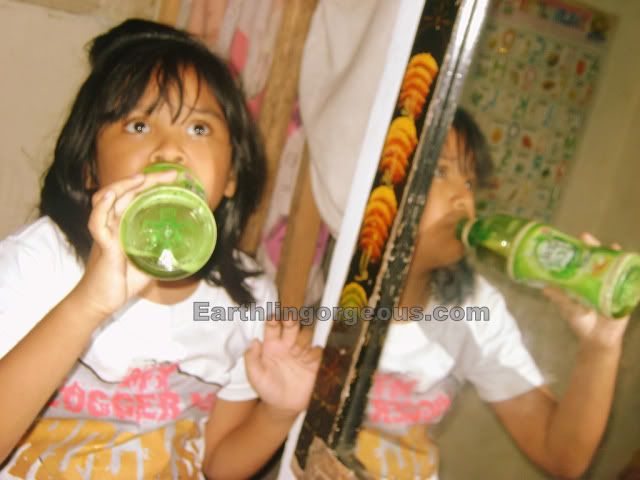 I followed her around the house as she drinks the Real Leaf .  That was fun!  She enjoyed it a lot and gulped away.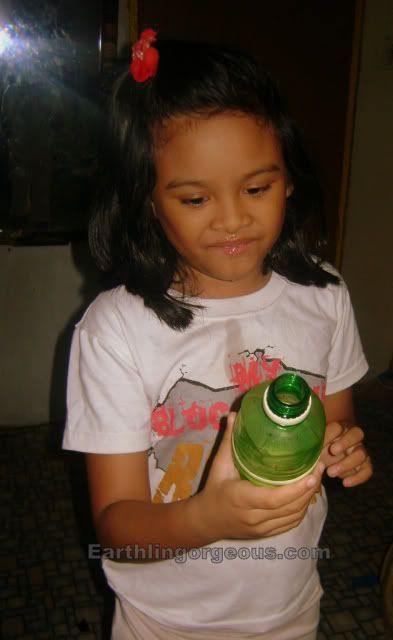 Daughter's thought bubble: Real Leaf taste soooo good!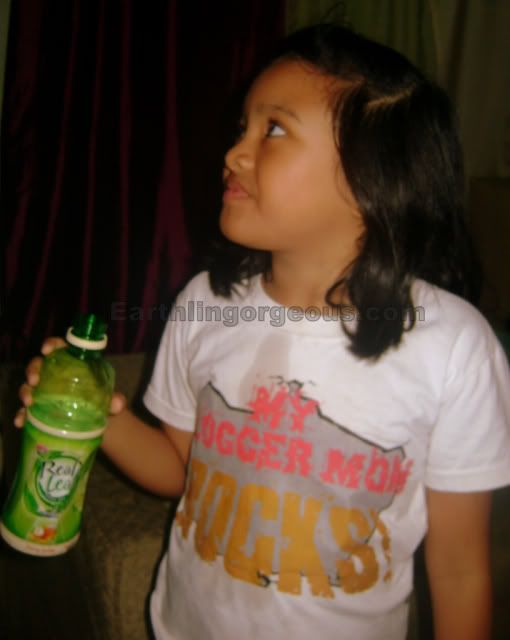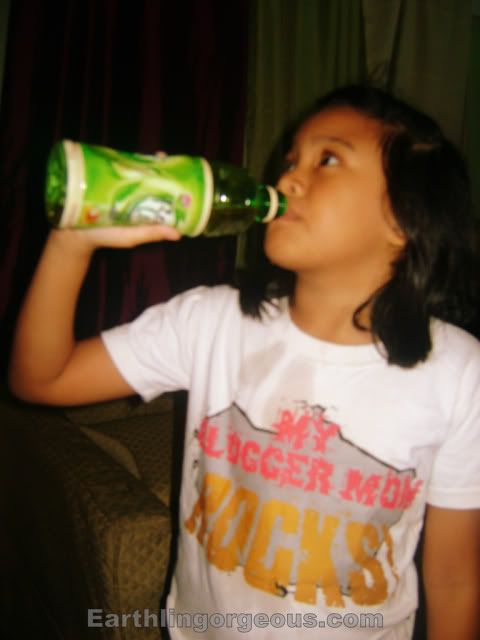 All the way down! Hey daughter! Don't eat the bottle! LMAO!
After consuming the entire bottle.  She is now packing away.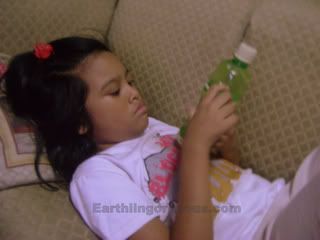 Daughter's thought bubble:  Awww I drank it all up.  I hope mom buys more of this stuff.
My daughter is not a soda or a juice drinker, water is her favorite beverage she likes coffee or hot chocolate in the morning, but in between, nothing but water. Having her drink Real Leaf is fun as I was able to introduce something  different to her.   I don't see any ingredient from Real Leaf that will be harmful to her. According to the label Real Leaf has 0% fat, 0% protein and 9% fat per serving of 240ml.
Based on personal experience green tea aids in the digestion as it helps release the toxins in the body.  I suggest your drink it at night time so that you can flush it in the morning.
FYI: No child or animal was hurt during the photo shoot.  Photographer was singing Paparazzi by Lady Gaga while taking the shots by the way.