There was a couple sitting in a porch.  One was a very vibrant and lovely looking young lady and the other was a handsome and sweet young man.  The guy had been courting the girl for a time now and they have been enjoying each others company all the while.
Suddenly, the girl opened a box sitting on her lap and inside it were two Krispy Kreme Doughnuts put together.  She said: " Take a look.  This is my answer to your question."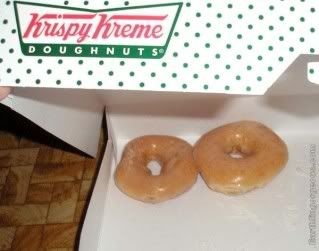 "Really!" the young man asked enthusiastically.  "Yes" the young lass said.  Finally, the young lass beside him is now his girlfriend!
By the way, oo is yes in Tagalog/Filipino and that was the significance of the two donuts put together in a box in this story, two letter o's.
The story above was my story decades ago and this is how Krispy Kreme Doughnut made my highschool life so memorable.  The guy on the story was my first boyfriend.
If you have a similar story or any story that will tell how Krispy Kreme has made your life special then join the Krispy Kreme FaveFan Promo .  The KK Favorite Fan promo is a part of Krispy Kreme's 6 dozens of years celebration or their 72 years of serving scrumptious doughnuts worldwide!
No purchase necessary to join this promo.  This  contest is open to anyone from UK, Australia, Canada, Japan, Korea, Malaysia, Mexico and of course Philippines!
The contest requires applicants to submit a photo with a 72 word (or less) caption that answers the question: "How has Krispy Kreme made your life special?"
One winner for each country will be chosen.  The country winner will get 12 dozen doughnuts for a year and will be flown to Winston-Salem, North Carolina, USA – the home of Krispy Kreme, where he/she will meet the other country winners for a chance to create and name their own doughnuts exclusively distributed by KK.
Just be noted that all winners should be able to secure a U.S. visa on their own in case you are the country winner to be able to join the U.S. trip
For more information about the contest mechanics and other visit the KK FaveFan Promo site mentioned above or join the Krispy Kreme FaveFan Promo Facebook page.